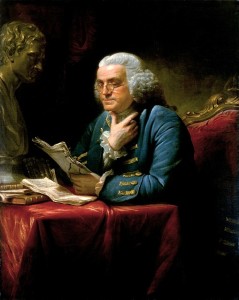 What holiday could be more in the spirit of mobility and portability than July 4th, Independence Day in the US? Go where you want and spend the day your way. To that end we've compiled 5 portable items that should come in handy this 4th.
As BBQ'ing is of course one of the principal activities that Americans engage in during the holiday, you'll need, well, a grill. You're not going to haul that giant gas BBQ grill sitting on the patio to the park, are you? Keep it light and compact, friend. The Pop Up Grill goes anywhere and allows you to cook with either charcoal or firewood, straight over an open fire. Whoa now. Remove the charcoal tray and ventilated bottom basket and, with the three legs extended, place the remaining cooking grill right over the burning wood. From what we've seen online, nothing else comes close to allowing you to cook using either fuel in such a versatile and compact manner. When not in use, the Pop Up Grill comes apart and fits into a small circular bag with shoulder strap and enough extra room inside to pack a bit of charcoal or kindling. If you're going camping on the 4th, this grill will do the job quite nicely. As a bonus feature, the legs can be flipped up and used as arms by which to hang the entire grill setup instead of standing it up – you might do this if you're worried about your trusty dog sidekick helping itself to some tasty morsels before you realize what's going on.
In addition to your grill, the IceMule cooler is a critical companion. Resembling a dry bag, the foam-insulated, leak-free cooler enables you to keep things icy for up to 24 hours. Some IceMules can be worn like backpacks. When not in use, it rolls up into a neat little package that can be easily stowed. Take it to the store with you so that when you buy that bag of ice, you can get it to wherever you're going inside the IceMule without the ice making puddles in your trunk. Or, if you're going on a family camping trip, pack the IceMule instead of bringing the bulky hardshell cooler you've got chilling in the garage, especially if there will be some boating or walking involved. Speaking of boating, it even floats, in case you drop it in a lake. Yep, the IceMule is one cool burro.
Now if you're the one who's being counted on to supply the fish for the BBQ, don't leave anything to chance – pick up a Deeper Fishfinder and wreak some havoc on the fish population. You don't want to be the loser who made everyone go hungry because you decided to fish the old-fashioned way, do you? Dude, so un-American. Kick some ass and take some names. The ultra-portable, wireless sonar-emitting ball of doom will give you the edge you need to locate and ultimately catch underwater monsters from the inside of your boat or the riverbank. Attach the Deeper to your line, open the companion app on a smart device of your choosing, and cast away. Then watch the screen of your Android or iOS device as it displays details about the world under the surface transmitted back by the sonar-emitting ball via bluetooth. Information gathered includes the underwater topography; location and number of soon-to-be BBQ'd fish; presence of underwater objects (which can be told apart from the fish); and water temperature, among other things. All from a device that weighs only 100 grams/3.5 ounces and has a diameter of just 65 millimeters/2.6 inches. Yes indeedy, built to fit into that ol' tackle box.
Once you've caught and grilled the fish and solidified your status as Holiday Hero, treat yourself to some relaxing in your Leano insta-chair anywhere you damn-well feel like it. Three dowel-type lengths of wood and a long runner of fabric come together to provide you with reclined-style seating or flat-body lounging. Besides its simplicity, the beauty of this chair is in its portability. When you're ready to go watch the local parade or the evening's fireworks, carry the chair with you; the wood and fabric can be rolled up into a tight bundle that is narrower than a high-tech sleeping bag and lighter than an iPad Air, according to the inventors. They've even opensourced the design so that anyone can construct their own Leano. That's right, if you have a few tools and some raw material you can build you and your family a few before the 4th rolls around.
Last but not least, a cold, tasty beverage is in order. Whether it be a can or bottle of soda or alcohol, make sure it's cold with the ice in the IceMule and the SpinChill portable beverage chiller. Set the can in the ice, attach the SpinChill, and spin your beverage in the ice into one cold treat within 30-60 seconds. It turns out, applying the laws of convection, that if you spin a packaged beverage in ice, it will cool faster and reach a lower temperature than just setting the beverage in ice in your cooler, for instance. The thing even works on wine bottles. What's more, the beverages won't explode or fizz over. Now who said science was dull.
Here's to you and a happy (and safe) 4th of July from us here at PortAbout!