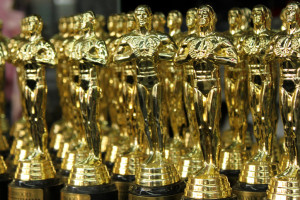 So, you've probably heard that income inequality continues to increase, right? Well, as you look forward to watching the Academy Awards on Sunday, we have news for you – the Distinctive Assets "Everyone Wins at the Oscars Nominee Gift Bag" isn't helping. The gift bag, given to every actor/actress, supporting actor/actress, and best directory Oscar nominee, is reportedly valued at $125,000, with goods ranging from mind-reading gift certificates ($20,000 worth) to a year's worth of Audi car rentals ($20,000) to a luxury train ride through the Rockies ($14,500) to bottles of wine and mezcal ($54 and $70 respectively) to paintings by Gunner Fox ($?). To be honest, we're not here to discuss the widening income gap between the wealthy and everyone else, nor do we care about the paintings (sorry, Gunner). What we do care about, this being a site about all things portable, is what snazzy portable items are in that bag this year. Here's a rundown of five of the more interesting ones in alphabetical order by product name.
For the female nominees this year, it looks like they'll be able to get themselves off, winners or losers, with a little help from the Afterglow vibrator ($250). It utilizes trademarked PulseWave™ technology (a custom combination of light energy and vibration) to increase arousal and bring on full-body orgasms, not just plain old run-of-the-mill ones. Features and accessories also include the "PulseWave O", a pre-set eight-minute program of vibration and light activated with the touch of a single button; privacy mode (quiet motor and lights off); 15 different vibration modes and 85 different light wave combinations; a no-look keypad; travel-safe power-off mode; USB rechargeability; 100% body-safe silicon construction; carrying bag; locking storage box; and charger plug and cable. As if the recipients or anyone else needed reminding, they can use their Afterglow when they're alone or when they're with a friend. Thanks for the hot tip, team Afterglow!
What could possibly be better than a full-body orgasm? Getting high. And that's where the Haze vaporizer ($250) comes in. We know, you've already got a Da Vinci, what's so special about this one? Well, as they note on their own web site, the Haze vaporizer is the first vaporizer to make it into an Oscar nominee gift bag. Right-o, but what else? It's apparently the first portable vaporizer to have two bowls, not just one, allowing the user to vaporize two "materials", like dried herbs, concentrates, or oils, at the same time. Now instead of just vaping oregano, you can vape oregano and rosemary! Or, for something totally different, rosemary and thyme! Other features and accessories include an LED display with temperature and battery indications; five-minute auto shutoff; four different temperature settings; a tool for handling your material; a cleaning brush; and glass and stainless steel mouthpieces. Now that's a hell of an "aromatherapy" device.
While the nominees are high, they might want to listen to some music, and that's where the LG TONE INFINIM™ (HBS-900) wireless stereo headset comes in. Relying upon Bluetooth technology to connect to your music device, the headset reminds us of a collar. For humans. Rest the collar on the back of your neck and your collar bones, pull the retractable ear buds out of the ends of the collar, place them in ears, and initiate jamming for up to 14 hours of music playback. The phone can be answered, volume adjusted, and track playback controlled, all from the touch of buttons on the collar. The headphones are supposedly jog-friendly, although we really can't imagine running with the collar on – it doesn't appear to fasten to clothing or anything else in any way and makes us think this puppy would be bouncing around pretty badly and annoy the s@#$ out of its user.
Being high and listening to music might make it challenging to take photos, so enter the next device, the Narrative Clip wearable camera, which interestingly enough started life out as a Kickstarter campaign under the name "Memoto Lifelogging Camera". Not to worry, it doesn't even need to be touched to snap pictures, just clipped on a shirt and it'll take photos automatically. With an 86.5° field of view, 8MP, wireless capability, built-in GPS, and multiple mounting options, it's a guarantee that some great shots from some Oscars afterparty will be captured, up to 8GB worth per camera. The Narrative Clip is equipped with both WiFi, allowing for automatic wireless transfer of photos over a recognized network, and Bluetooth, which enables remote control of the camera from a smart device. It's good for up to 30 hours on a single charge and is USB rechargeable. Along with the camera, users can take advantage of an accompanying mobile application and photo browsing, organizing, and sharing service. Let's see what embarrassing surreptitiously-snapped photo makes the rounds next.
Finally, the nominees will certainly want to know if they've hit their fitness goals for the day after all this activity (how many calories does clapping burn?). As you know, they're under constant pressure to look their best. Watching their every move will be the Polar Loop 24/7 activity tracker, which likewise comes with its own accompanying app and web service. After being placed around a wrist, the user can view their usage time, calories, steps, and percent of activity goal completed via the built-in LED display, and it will help them maintain an exercise diary of sorts that can be reported on or shared. It's waterproof, gives tips on how to accomplish a user's activity goals, and reminds the user when they've been still for too long, which might happen while they're high. If by the end of the night the user hasn't reached their fitness goal, there's always the Afterglow vibrator. Never mind the clapping. How much "activity" does the Polar Loop register for a pre-programmed eight-minute orgasm? That's what we'd like to know.
(Distinctive Assets is a Los Angeles based marketing and product placement agency. Its "Everyone Wins at the Oscars Nominee Gift Bag" is in its 13th year. It is not sponsored by the Academy Awards and is comprised of items that vendors which to seed with the stars for marketing and sales purposes, with the help of Distinctive Assets. For a complete list of items in the gift bag this year, see The Hollywood Reporter's article on it.)