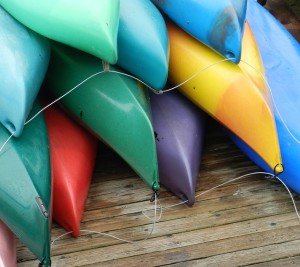 We've been daydreaming of multi-modal expeditions in the outdoors. No, not the kind where you hike to the edge of some insane cliff, don your squirrel suit, and plunge into the sharp mountainous abyss, hugging the uninviting rock faces like some slug on meth. No, much more tranquil but still adventurous ones, you know, where you're in the backcountry, hiking through some beautiful landscape, and BAM, you come to some body of water – a gorgeous alpine lake, a frothy and loquacious river, and you need to change up your mode of transport to explore further and dive deeper into your surroundings. You'll want a boat – a kayak would do nicely, a packable and portable one – to take you places that you wouldn't make it to otherwise. Here's a rundown of 3 categories from which to choose.
The principal category of portable kayaks is comprised of those vessels that "fold" up and pack into bags when not in use. They consist of interlocking pole frame sets that you shake out and assemble together, then place into or wrap up in skins to form the boat. If you've ever set up a tent, you already get the idea. In this category, we have the Folbot models, the Trak Seeker, the Feathercraft models such as the Heron, K1, and Kahuna, and others.
The basic gist is that you have your rear set of poles that forms your stern, the front set that forms your bow, structural ribs or cross sections that keep all these tubes in place and help define shape, and a middle or bridge section of pieces that further stabilizes these pole sets and connects them together to form a complete boat. After that, strap in your seat and complete your final skin fitting and connecting adjustments. In some cases, the seat installation may be completed after you've finalized the attachment of the rigging, but same difference.
So how would you go about distinguishing between any of these? Well, besides differences in materials employed, there are notable structural design differences, weight differences, and payload differences. The Trak Seeker, for instance, has a patented jacking system they've dubbed the the Tri-active Performance System. Comprised of three separate hydraulic jacks that make up part of the bridge section tying the bow and stern together, the TPS can actually be used to change the shape of the hull, increasing or decreasing its curvature (or rocker) for varying water conditions while you're using the Seeker. For instance, you may want to increase curvature in river or ocean settings, or leave it minimal for flat-water lakes.
Moreover, the Seeker guarantees fewer parts, greater ease of assembly, and much faster construction times than any of Feathercraft's skin-on-frame models or the Folbot Cooper. However, Feathercraft and Folbot offer the option of having a rudder and with Feathercraft you can add hatches. Not so with the Trak Seeker. When it comes to weights and payloads, the Trak Seeker weighs in at 66lbs packed up with all accessories and can carry 300lbs. As a comparison, the Folbot Cooper weighs just 39lbs with a payload capacity of 275lbs, and Feathercraft's Heron has a packed weight of just over 54lbs and maximum payload of almost 408lbs. This all means that you have to do your homework to pick the right boat for you.
Much, much lighter than the skin-on-frame kayaks mentioned above, not to mention other watercrafts in their own class, the Trekkayak and Alpackalypse fall into our inflatable category. Having begun its life as a Kickstarter campaign, the Trekkayak is a product of the Swedish Lapland that is similarly built for mobile adventure, beginning with its construction of durable Cordura fabric on the outside and polyurethane bladders on the inside. Meant to inflate within a couple of minutes to a length of 3m and width just shy of 1m, using its dry bag which doubles as an inflation bag, the Trekkayak is also extremely light (less than 3kgs/just over 6.6lbs); is roughly the size of a tent or sleeping bag when deflated; and features a dual-hull catamaran design with a trampoline for the captain running down the middle.
Everything about this vessel screams durability and flexibility. Aside from the Cordura fabric and thermoplastic hull bladders, the trampoline connects to the hulls via a clever "crocodile-style" double-velcro system – simple and strong, with no zippers to become damaged or corroded. Two detachable carbon fiber poles run between the hulls at the front and back of the trampoline providing additional strength and support. As for modularity, all parts, including the valves, hulls, bladders, trampoline, and fabric, all are removable and replaceable. Want to use a different fabric to cut down on weight (parachute materials) or beef up the craft for rougher water with more rocks (kevlar)? Can do. Need to replace a torn trampoline? No problem. Want to upgrade to larger hulls? Go for it. What's more, accessories are currently in the works so that you can outfit your Trekkayak with additional bells and whistles that suit your specific needs via the boat's MOLLE webbing already stitched in along the hulls and on the trampoline. All told, this is one bad-ass backcountry watercraft.
Comparing vessel to vessel, the inflatable Alpackalypse by Alpacka Raft is an ever-so-slightly heavier packraft (3.2kg or 7.2lbs, 12lbs with all accessories) that will take you where most of the boats mentioned here cannot – into the curling rapids of rough whitewater and right over small waterfalls. While the company, Alpacka Raft, is sure to point out that this packraft is not a kayak, it is certainly the most kayak-like of all their vessels, with smaller tubes and, hence, a more-defined side edge and less lateral stability, like a kayak. This in contrast to the stabilizing effect of the Trekkayak's redundant two-hull design. Additionally, knee cups, a back band, hip pads (also inflatable), heavy-duty seat, and foot brace all help make for a snappy and responsive boat indeed. Furthermore, you can store your gear inside the watercraft's tubes, keeping it off the bow, whereas gear on the Trekkayak sits with the paddler on the deck or (we assume) strapped via MOLLE webbing to one of the hulls. If you have any doubt about what the Alpackalypse is capable of or where it can take you, you have to see this video.
Then there's a third category which can only be described as boxed, origami, or transformer, invented by the recently introduced Oru kayaks. Also having begun its life as a Kickstarter Campaign, the Oru Bay kayak was indeed inspired by origami – as well as small living spaces and love of the outdoors – and it is indeed a Transformer, a 26lb watercraft disguised as a box. That is, the box you haul around via handle, shoulder strap, or backpack, becomes the kayak you explore in.
With the Oru models, you won't find any separate rigging, collapsible-pole segments, cross sections, or many other additional pieces needing to be wedged, strapped, or snapped in. What you will find is a single sheet of double-layer polypropylene that can convert from box to boat with a completely hollow bow and stern (no internal structural frame). Throw in the floor (the box lid), seat pad and back, footrest, and so on, and you're ready to go in around 5 minutes. It should be noted that there is a lifespan to this boat of 20,000 foldings and unfoldings, meaning that if you used the boat once every day for approximately 55 years, you'd wear out the folds. Good luck.
As is the case with the other watercraft mentioned here, there are accessories and upgrades for the Oru models, including inflatable lights that can be positioned inside the kayak's vacant sections for nighttime paddling and visibility, turning the kayak into a beautifully glowing sea lantern. Very nice. While we wouldn't recommend the Oru models for river riding, you'll otherwise do fine indeed in inland water bodies or coastal sea with light-to-medium surf. Don't be fooled – these boats are sturdy, and the company has thrown models off rooftops to demonstrate that.
The Wrap-Up
Our vote? For absolutely far-flung adventurism and, hence, maximum mobility, we'd have to choose the Trekkayak or the Alpackalypse (or perhaps one of Alpacka Raft's 3 go-anywhere boats, the Alpacka, Yak, or Llama) due to their low weights, packability, and ability to go just about anywhere. The Trekkayak especially strikes us as a vessel that could make up part of a backpacker's (or any enthusiast's) gear due to its extremely small packing footprint, ease of portage, and granite durability, but we'll have to wait and see the final product and options to understand if it will have the reach that the Alpackalypse seems to have. For instance, the inventors say that a spray deck may be an option, but how would that work on the Trekkayak's trampoline which is elevated well above the water line, and would that spray deck have built-in support to afford one the capability to maneuver it in serious whitewater and over cascades downriver?
If instead your goal is to explore some lakes, bays, or quiet coastline while car camping or just for the day, one of the Oru models would make a fantastic companion given its minimalist design, straightforward packaging, and ease of setup. The Trak Seeker gets honorable mention for its sweet TPS jacking system.
No matter how we feel about any of these individual boats, it's clear that all the portable watercraft companies mentioned here are making it considerably easier for us to get out there and get paddling, and we can't complain about that one bit. To them all, we tip our hats. Now who's ready for an adventure? No, you can't bring your squirrel suit, but you can carry the hot tub.